Ranked second place on the Swissed-based International Institute of Management Department (IMD) World Competitiveness Ranking 2019, Hong Kong overtook America for the top spots this year. Till 2019, this is the 25th year for Hong Kong to be entitled as the freest economy successively by Heritage Foundation, an American think tank.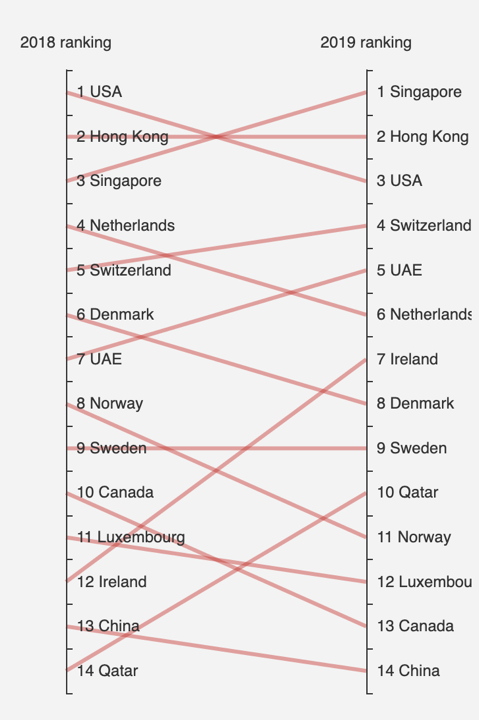 (Swissed-based International Institute of Management Department (IMD) World Competitiveness Ranking 2018 VS 2019)
Acknowledged as Asian Financial Hub, Hong Kong takes advantage of its geographical location, simple taxation structure, multicultural environment to host innumerable local and international pivotal companies. People flush into this oriental city for its mixed culture and myriad job opportunities.
However, a society with a diverse population composition does not guarantee a culturally integrated society. The institute of urban strategies under the Mori Memorial Foundation in Japan assessed cities in the world from 6 aspects: Economy, Research and Development, Cultural Interaction, Livability, Environment, Accessibility. Hong Kong demonstrates a competitive economy status, ranked No.9 in the Global Power City Index 2019, while also reveals its weakness in cultural interaction and livability, two aspects taking interaction with foreigners and social equality as attributes.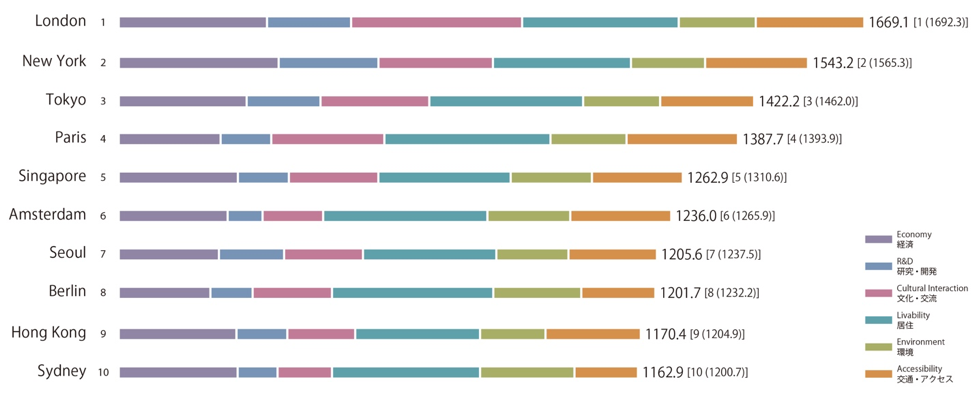 (Bar chart showing the index given by the Japan think tank. Hong Kong presents discrepancy in cultural interaction.)
Ethnic Minorities (EM), is employed in Hong Kong to describe the non-Chinese people. According to the 2016 Hong Kong Census, 8.0% of the population were non-Chinese, among which 57.7% was taken up by Filipino and Indonesian people, followed by South Asian, Mixed and White. Interestingly, the Equal Opportunities Commission, which promotes equal opportunities for people with different gender, race and physical condition, separated Caucasian from Ethnic Minorities in a report published in 2016.

(Source: Study on Discrimination against Ethnic Minorities in the Provision of Goods, Services and Facilities, and Disposal and Management of Premises by Equal Opportunities Commission )
According to Hong Kong law and regulations, any person may acquire the legal status of permanent resident after residing in Hong Kong for 7 years, while Section 2(4) of the Immigration Ordinance excludes domestic helpers and certain other occupational categories, including refugees. Excluding domestic helpers from the population, 63.2 percent of the whole ethnic minority population are permanent residents residing in Hong Kong for over 7 years, taking an estimate of 2.6% of the total local population.

Racial hierarchy exists within the ethnic minority community, generally dominated by skin tone discrimination, reported by an ethnic minority research report issued by The Zubin Mahtani Gidumal Foundation (short as Zubin Foundation), a Hong Kong social study think tank.
Based on their finding, darker skin color basically means larger chance of facing bias and less possibility of integrating to this society, elaborated by Puja Kapai, Director of Hong Kong University's Centre for Comparative and Public Law, who dedicated to improve the social status of EM community and contributed to the research report of Zubin Foundation.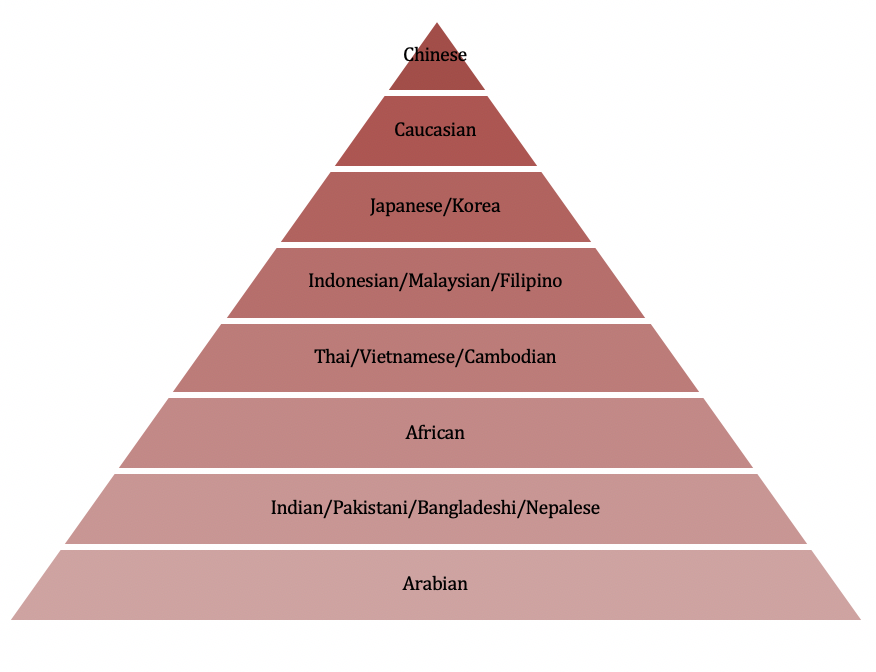 (This pyramid illustrates Hong Kong racial hierarchy and Arabian unexpectedly ranked bottom under the skin color hierarchy theory. Ms Kapai pointed out the term 'Arabian' is full of prejudice already.)
Indians make up the largest proportion amidst the South Asian, an estimated 6.2% of all ethnic minorities in HK. Their contribution has been underestimated. Tracing back to 1841, 2700 Indian soldiers were brought to Hong Kong by the British after Hong Kong island surrendered to British government in perpetuity. And in 1867, 100 Sikh policemen arrived in Hong Kong since they were recognized for their commitment to protective police work back in British India. Later in 1950s, nearly 200 Pakistanis came to Hong Kong for police service.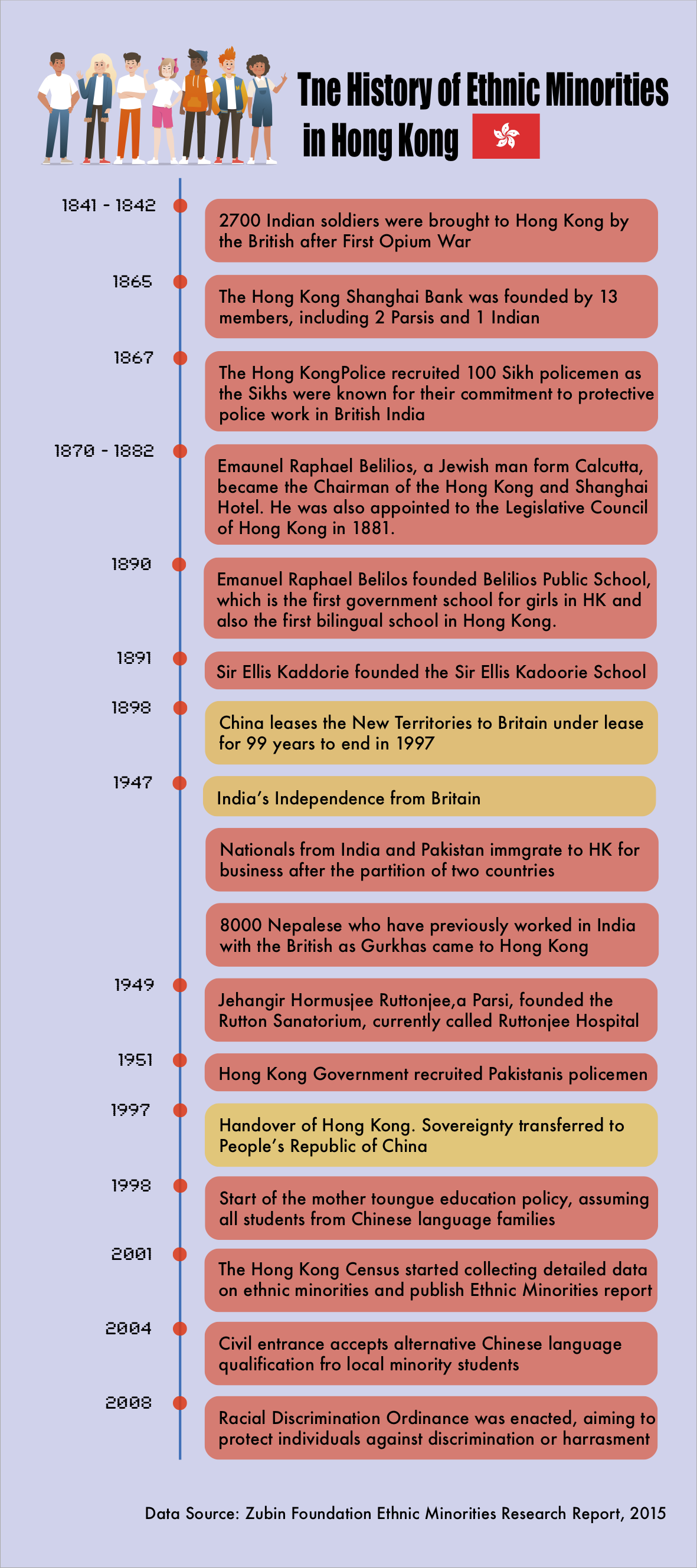 (Indian/Parkis history in Hong Kong)
Harpinder, a 21-year-old psychology major undergraduate student at Lingnan University, is a 4th generation Hong Kong-born Indian. Her great-grandfather used to be a police officer defending the Hong Kong against Japan during World War 2. After that, the whole family immigrated to Hong for a brighter and more promising future.